Uber 'to introduce self-driving cars within weeks'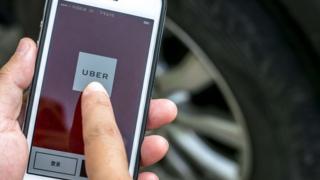 The ride-sharing firm Uber will, for the first time, allow users to hail self-driving cars later this month, it has been reported.
According to Bloomberg Businessweek, Uber's chief executive Travis Kalanick said the launch would take place in Pittsburgh, in Pennsylvania.
At first, the vehicles will be supervised by a driver, who can take control if necessary, and an observer.
Uber eventually hopes to replace its one million drivers, Bloomberg said.
The firm has not yet responded to a request for comment.
Volvo collaboration
However, Volvo has said the initiative is a "joint project" between Uber and the carmaker.
"Both Uber and Volvo will use the same base vehicle for the next stage of their own autonomous car strategies," the firm said,
"This will involve Uber adding its own self-developed autonomous driving systems to the Volvo base vehicle."
Engineers from both companies would collaborate on the project, the firm added.
"This alliance places Volvo at the heart of the current technological revolution in the automotive industry," said Hakan Samuelsson, president and chief executive of Volvo.
The Bloomberg story notes that the Volvo deal will not be an exclusive one, and that Uber plans to work with other carmakers in the future.
Some of Uber's know-how in the field of self-driving vehicles has come via its agreement in July to purchase Otto, a start-up founded by former Google employees to develop driverless trucks.
Otto was co-founded by Anthony Levandowski whose previous start-up, 510 Systems, was bought by Google when it began its own self-driving vehicles project.
More to follow.