Banksy Spy Booth artwork in Cheltenham 'destroyed'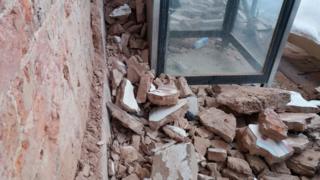 A Banksy artwork painted on the side of listed building in Cheltenham appears to have been destroyed.
Spy Booth depicted 1950s-style spies "snooping" on a phone box. It appeared in 2014, three miles from government listening post GCHQ.
A pile of rubble now lies on the ground below the wall of the house it was on.
The piece gained listed status last year after Cheltenham Borough Council granted it retrospective planning permission.
A social media post on Saturday appeared to show the mural being cut down behind a tarpaulin, with the sound of machinery audible.
Local people had campaigned to save the artwork, on the corner of Fairview Road and Hewlett Road, after an apparent attempt to remove it for it to be sold in July 2014.
It was later defaced with spray paint and has been vandalised several times since.
In January this year the Grade II-listed house was put for for sale.
A Gloucestershire Police spokeswoman said they had had no reports of a crime being committed.