Actor and campaigner Lord Rix dies aged 92
20 August 2016

From the section

UK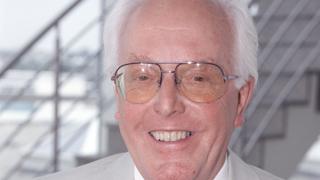 Actor and disability campaigner Lord Rix has died aged 92, his family said.
The president of the learning disability charity Mencap had been terminally ill and urged Parliament to change the law on assisted dying.
He had previously opposed an assisted dying law, but said his illness had left him "like a beached whale" and in constant discomfort.
As Brian Rix, he performed on stage and TV, specialising in a series of post-war "Whitehall farce" comedies.
The crossbench peer voted against an Assisted Dying Bill in 2006 because of concerns that people with learning disabilities might become the unwilling victims of euthanasia.
He became a prominent campaigner for people with learning disabilities after his daughter was born with Down's syndrome.
Obituary: A master of farce and leading disability campaigner
Brian Rix was one of Britain's most successful actor-managers, once described as the master of farce, and also one of the country's leading charity campaigners.
For more than three decades his farces, acted out by some of the great names in British comedy, played to packed theatres and attracted millions of TV viewers.
But the birth of a daughter with Down's syndrome saw him begin a lifetime of campaigning for those with learning difficulties.
It culminated in him becoming president of the charity Mencap and using his seat in the Lords to press for reforms in the law to provide better care and treatment.
Read more about Brian Rix
'Unique charm'
Jan Tregelles, chief executive of Mencap, said: "When Lord Rix's daughter, Shelley, was born with a learning disability he and his wife Elspet were told to put her away, and forget about her.
"This started a quest lasting over 60 years to make the world a better place for all those with a learning disability.
"His unique charm, personality and passion have been invaluable in helping Mencap grow. Lord Rix made a real difference but there is still so much more to be done.
"We will not stop until people with a learning disability are valued equally, listened to and fully included in our society. That would be the most fitting tribute that we could pay to such an extraordinary man."
'Slip away peacefully'
Lord Rix, who died on Saturday morning, wrote to the speaker of the House of Lords earlier this month, explaining why he wanted legislation pushed through to allow those in his situation to be helped to die.
"Unhappily, my body seems to be constructed in such a way that it keeps me alive in great discomfort when all I want is to be allowed to slip into a sleep, peacefully, legally and without any threat to the medical or nursing profession," he wrote.
"I am sure there are many others like me who having finished with life wish their life to finish.
"Only with a legal euthanasia Bill on the statute books will the many people who find themselves in the same situation as me be able to slip away peacefully in their sleep instead of dreading the night."